The first few weeks of a child's life (and especially the first one) is somewhat of a shock for parents. Sleepless nights, feeding almost non-stop, uncertainty in almost every activity – and if the newborn suffers from colic, there is loud and often many-hours-long crying. There is not always an easy way to quickly soothe him, and carrying on your hands and swinging often does not help.
And suddenly after these few weeks – like a ray of sunshine on an autumn day – the first conscious smile!
There is a reason why psychologists and pediatricians call it a milestone in child development. This is the moment of making a conscious contact, silent expression of love for parents.
We are not talking about an involuntary smile which appears even shortly after birth. It is about a clear joy at the sight of a loved one, it is a smile which is an expression of gratitude and often a response to the smile of a mother or father. It soothes all pain, sadness and fatigue. When your child smiles, you know that it was worth the sacrifice. A child's smile has a special power – it melts parents' hearts!
When a child laughs, it is always a sincere smile. There is no falsehood and hypocrisy. A child's smile is the most beautiful miracle that parents can receive. A baby's smile makes us laugh and no one will resist this spell. The world becomes more beautiful, life makes sense and the gray reality gets colored like a magic wand. This small gesture expresses so much, this is the most wonderful gift … one little smile. So little but for some it is more than a thousand words. This gentle smile, which slowly blooms on baby's face, makes us unable to refuse him anything. The love we see in this smiley eyes gives us strength, we forget about the troubles and worries of everyday life.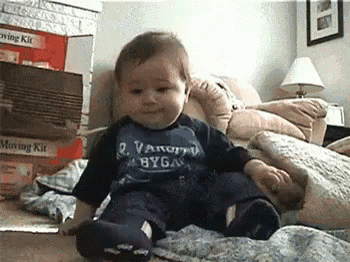 Nothing in the world is good enough to describe the feeling that we feel when our baby smile. We would love to save these moments forever, put them in beautiful words and pictures, share them with others. Baby smile quotes are one way of expressing these feelings. You can use quotes in a photo frame or write it in a photo album. Many people search for inspiring baby quotes to add them to greeting cards or just take note of them on your blog or social media. Choosing a good baby smile quote will help you convey your undying love for your baby's smile to the whole world.
Children look at the world in a unique way because they are honest, open, interesting and are not influenced by stereotypes or conventions. Numerous quotes about children emphasize that adults should follow the example of the youngest and be inspired by their unrestricted cordiality.
Bringing up a child is an extremely difficult challenge that has made many adults already grayed out, which is why it is worth stopping from time to time, thinking about the presence of the youngest in their lives, thinking about their feelings and place in the family life, never to lose sight that children are the greatest happiness and treasure that a person can count on in life.